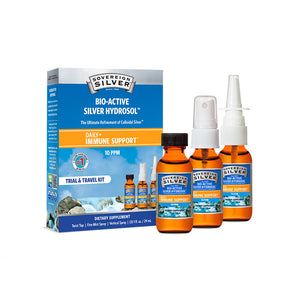 FOR THE JET-SETTERS AND GO-GETTERS
Powerful Immune Support* essentials in (3) 1 oz trial and travel-friendly bottles (twist top, fine mist spray & vertical spray). Our Trial & Travel Kit delivers travel-friendly convenience for on-the-go lifestyles.
Safe* The tiny particles in Bio-Active Silver Hydrosol are so powerful, a little goes a long way. And with a low 10 ppm (parts-per-million) concentration in each dose.
Pure* Only two ingredients: 99.999% pure silver and pharmaceutical-grade purified water. Plus, we package it in non-leaching, amber glass bottles (never plastic) to keep it as pure and powerful as the day it was created. 
Effective* Our proprietary manufacturing process creates the smallest silver particle size (as small as 0.8 nanometers) seen with a Transmission Electron Microscope and verified by third parties. And they're "bio-active", which means they're positively charged with energy and ready to go to work. The result? Our Bio-Active Silver Hydrosol delivers a powerful army of very small particles prepared to fight where needed.
* These statements have not been evaluated by the FDA. This product is not intended to diagnose, treat, cure, or prevent any disease.