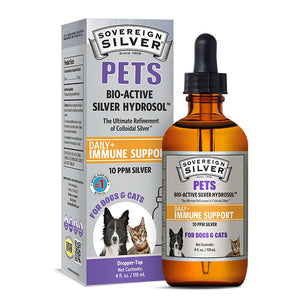 Sovereign Silver Immune Pet Support Dropper Top 4 oz
NATURAL: Silver is a naturally occurring mineral which is already a part of an animal's diet. Peer-reviewed literature demonstrates the safety of silver in animals at 2,000 times the EPA reference dose for humans.¹
PURE: Only two ingredients: 99.999% pure silver and pharmaceutical-grade water. Packaged in non-leaching, amber glass bottles (never plastic) to keep it as pure and powerful as the day it was created.
BIO-ACTIVE: Our tiny particles (as small as 0.8 nanometers) result in a formula that is >98% bio-active, meaning they're packed with positive energy and ready to go to work.
Give your pets the very best. Sovereign Silver Bio-Active Silver Hydrosol, certified by the National Animal Supplement Council (NASC), provides daily immune support and allergy relief for pets. It works by promoting the body's natural resistance to pathogens. Pets love it's neutral taste (like water!) and pet parents love the weight-specific dosing instructions.
* These statements have not been evaluated by the FDA. This product is not intended to diagnose, treat, cure, or prevent any disease.