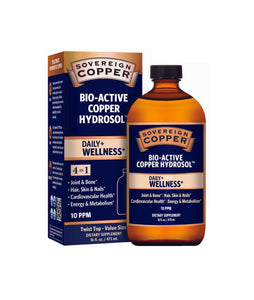 Sovereign Bio-Active Copper Hydrosol has many great advantages.
JOINT AND BONE HEALTH*: Maintains the strength and flexibility of connective tissue resulting in healthier bone and cartilage structure.

HEALTHY HAIR SKIN AND NAILS*: Helps your body build collagen and elastin for healthier hair, skin elasticity and firmer nails.

CARDIOVASCULAR HEALTH*: Supports strong and flexible arteries, helps the body absorb iron and aids in red blood cell production.

SUPPORTS ENERGY & METABOLISM*: Assists in the production of ATP (the energy producing molecule) and works to improve metabolism.
Sovereign Copper® Bio-Active Copper Hydrosol™ offers the body copper in both forms: copper I and copper II. This distinguishing feature makes all the difference when it comes to absorption.
Also unique to Sovereign Copper Bio-Active Copper Hydrosol, it provides the copper in tiny clusters of atoms. These clusters are small enough for absorption into the cell, and they act as a catalyst to cellular energy. This results in increased efficiency and work performance, contributing to a longer lifespan of the cell.
© 2021 Sovereign Copper
These statements are not intended to diagnose, treat, cure or prevent any disease.