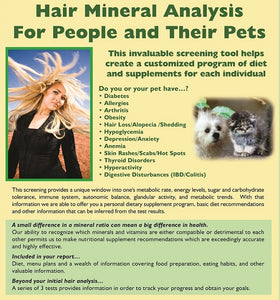 Hair Mineral Analysis is a valuable testing tool to find toxins and heavy minerals that accumulate in the body over a lifetime. These toxins come from a variety of sources that we are exposed to in everyday life. Processed foods, medications, including preventative drugs and vaccines along with environmental factors such as outdoor pesticides, household cleaners, flea and tick shampoos and more all contain chemicals that add to the toxic load.

This is a non-invasive test that only requires a sample of the subject's hair that will be tested to 21 different minerals and 13 heavy metals.

Includes a complete detailed report with recommendations to a healthier life.
After purchase, we will provide you with a test kit that can be sent out with instructions, questionnaire and a mailer for submitting your hair sample. After kit is submitted, testing takes 2-3 weeks for the detailed results and recommendations which you will receive by email. A phone consultation is also included.