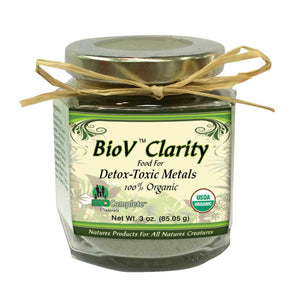 BioV™ Clarity Blend are Drug-Free and are specifically formulated from combining a variety of our BioComplete™ Natural Herbs and consist only of healthy USDA approved, Organic, all-natural foods and botanicals that offer a holistic alternative in promoting and maintaining the body's utmost health with modern, up to date science.
Ingredients - A proprietary blend of: Cilantro, Dandelion, Chlorella, Spirulina, Turmeric, Milk Thistle, Astragalus, Shiitake, Reishi Mushroom, Chaga, Nori, Pau d'Arco, Slippery Elm and Diatomaceous Earth Powder (food grade).
This information has not been evaluated by the Food and Drug Administration. It is not intended to diagnose, treat, cure, or prevent any disease. This is a food that may be beneficial for supporting health for these conditions.