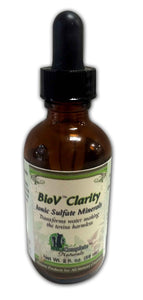 Wouldn't you like to have drinking water that has impurities eliminated, is oxygen enhanced, has a high-level of hydration, supplies your body with valuable minerals, and has a refreshing taste?
BioV™ Clarity's Ionic Sulfate Minerals utilize a powerful force by attracting contaminants and clumping them into larger sized particulates. These clumps are heavier than water and, therefore, become sediment. Before your eyes, you will see dissolved, invisible contaminants become insoluble and visible! With this ability, even muddy water can now be made clear and clarified!
As BioV™ Clarity's ionic minerals are clumping impurities, they are also activating the oxygen within the water. What is oxygenated water?  Water that is ready to go to work in your body to provide oxygen for you.
Chlorine or bacteria could be lurking in your water. They can be clarified. Let's get some clean water!
* These statements have not been evaluated by the FDA and are not intended to cure, diagnose, treat, or prevent any disease.