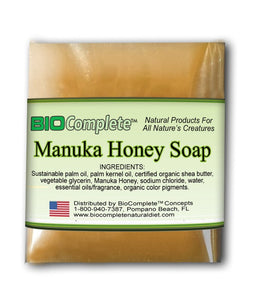 BioComplete™ Manuka Honey Soap is a luxurious product with many beneficial uses. It is a pure plant oil soap bar with a wonderful fragrance rich in Omega 6 Vitamins A, D, and E plus fatty acids.
Nourishes and moisturizes dry skin while cleansing. 

Pleasant scent that helps to calm the mind

Beneficial components that provide a luxurious way to nourish the skin.

Has been known to soothe aching muscles

Rinses off clean without any soap residue remaining. 
Ingredients: Sustainable palm oil, palm kernel oil, organic shea butter, vegetable glycerin, Manuka honey, sodium chloride, water, essential oils/fragrances and organic color pigment.
This information has not been evaluated by the Food and Drug Administration. It is not intended to diagnose, treat, cure, or prevent any disease. These products may be beneficial for supporting optimal health.