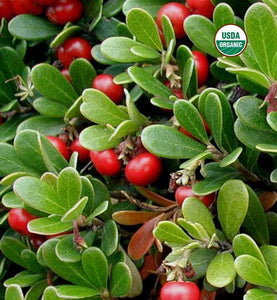 Arctostaphylos uva ursi, bearberry, and kinnikinnick
Closely related to cranberry and blueberry, Uva Ursi is a low-lying evergreen perennial bush whose berries are a favorite of bears, hence the name "Bearberry." however, it is the leaves that are used medicinally.
Arbutin, hydroquinone, tannins, iridoids, flavonoids, volatile oils, ursolic, malic and gallic acids.
Dried leaves and stem fragments.
Traditionally used as a tea or tincture. Frequently combined with buchu, cleavers, dandelion leaf, parsley fruit, or juniper berries. May also be taken in capsule form.
Uva Ursi is only appropriate for short-term use, no more than two weeks at a time, no more than 5 times a year. Uva Ursi should not be taken by young children, pregnant or nursing women, or by persons with severe liver or kidney disease.
This information has not been evaluated by the Food and Drug Administration. It is not intended to diagnose, treat, cure, or prevent any disease. These food products may be beneficial for supporting optimal health.
For educational purposes only.