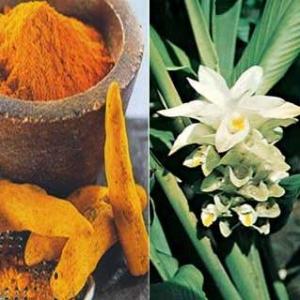 Also known as: curcuma longa, curcuma, gauri, haldi, indian saffron, and you jin.

Introduction: Turmeric is a tropical perennial plant in the same family as ginger, native to India, and cultivated throughout the tropics around the world. Growing to a height of about three feet, it bears pairs of lance-shaped leaves on alternate sides of the stem. At the base of the stem, there is a knobby rhizome somewhat resembling ginger. Most herbal traditions use turmeric to "Invigorate the blood." 

Precautions: as is the case with so many herbs, Turmeric should be used in moderation. Too much turmeric used for extended periods of time may cause stomach distress. Since Turmeric is included in Ayurvedic formulas for birth control, women trying to become pregnant should limit their consumption of the herb, and it should be avoided entirely while pregnant. Excessive use of Turmeric should also be avoided in people with congestive heart failure.
This information has not been evaluated by the Food and Drug Administration. It is not intended to diagnose, treat, cure, or prevent any disease. These food products may be beneficial for supporting optimal health.
For educational purposes only.

Capsules available upon request.