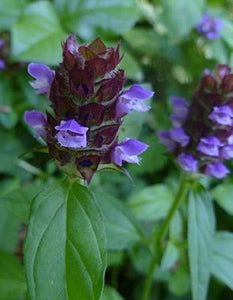 Also known as Prunella vulgaris, heal all, prunella, woundwort, hercules woundwort, sickle herb, carpenter's herb, dragonhead, and blue curls
Heal all is a common weed that grows wild throughout North America, Europe and temperate areas in Asia. A low-growing perennial with purple flowers, heal all has been used in traditional medicine to treat a wide variety of ills and wounds, including cuts, abrasions, bruises, sore throats, thrush, yeast infections and more. While heal all may seem to enjoy the reputation of panacea, there are some medicinal uses that have been consistent throughout the world, and which are being borne out by modern research.
This information has not been evaluated by the Food and Drug Administration. It is not intended to diagnose, treat, cure, or prevent any disease. These food products may be beneficial for supporting optimal health.
For educational purposes only.

Capsules available upon request.