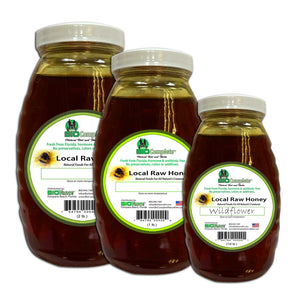 BioComplete™ Raw Local Honey .5 Lb, 1 Lb and 2 Lbs
Our delicious honey is raw & unfiltered, minimally processed, and sourced from our local Florida beekeepers. The variety will vary according to availability. Our source has hives located in areas of South Florida where flowers are growing naturally without human intervention.  All grow well in South Florida due to the plentiful sun and afternoon rains.  Additionally, the warm weather allows for year round nectar collection by honey bees. The nectar from these flowers are a major source of nectar for bees in this area.  Honeybees use the nectar of these flowers to make this honey.
Raw honey strengthens neutrophils and macrophages in order to aid in fighting off pathogens, boosts liver functions and helps to improve heart health. According to the USDA, raw honey contains natural vitamins and minerals including calcium, iron, magnesium, zinc. It also contains Vitamins C, B6 and B12, A, E, and D. Local raw honey is best for the highest quality. Used as a sugar alternative, it should be used in moderation by those with diabetes.
(Flavors vary upon availability)