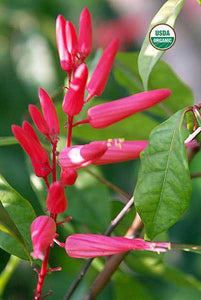 The quassia tree grows from 50 to 100 feet high, with smooth, gray bark. It bears multiple leaves, and yellow flowers with fruits that are black and pea-shaped. It is native to South America and the West Indies. Interestingly, insects always avoid the tree, because of its extremely bitter resin.
Quassia should not be used for pregnant or nursing pets.
This information has not been evaluated by the Food and Drug Administration. It is not intended to diagnose, treat, cure, or prevent any disease. These food products may be beneficial for supporting optimal health.
For educational purposes only.

Capsules available upon request.