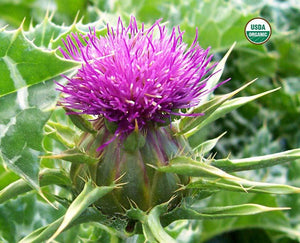 Native to Europe and part of the U.S., Milk Thistle, a member of the sunflower family, is an herb that grows up to six feet tall, with coarse, prickly-edged leaves. Its flowers are crimson to red-violet, and grow in solitary globular heads about two inches across.
With over 2,000 years of history, from the ancient Greeks to modern European physicians, Milk Thistle is one of the most popular and effective medicinal herbs in existence. It was not until 1968, however, that silymarin, a flavonoid compound, was isolated from the seeds of the plant, and found to be the active constituent.
This information has not been evaluated by the Food and Drug Administration. It is not intended to diagnose, treat, cure, or prevent any disease. These food products may be beneficial for supporting optimal health.
For educational purposes only.

Capsules available upon request.