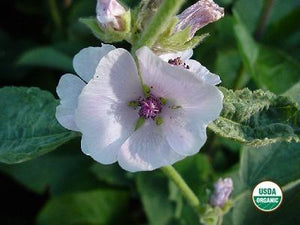 Althaea officinalis, althaea root or althaea root, mallow root, mortification root, Schloss tea, sweet weed, Hock herb.
Althaea officinalis is an herbaceous perennial and member of the mucilage-containing Malvaceae family. It can be found growing alongside marshes, seas, riverbanks, and other equally damp areas. Our marshmallow powder is ground from organically cultivated roots. Soothing and demulcent, marshmallow root powder can be blended into body care recipes, encapsulated, tinctured, or used in cooking.
Known throughout the ancient Egyptian, Arab, Greek, and Roman cultures, this herb has been used continually for at least 2000 years. In traditional folk practices it was given to soothe and moisten mucous membranes of the respiratory, digestive, and urinary tracts, and also as an external poultice. This plant has been used in beverages, desserts, candies, cosmetic creams, and was the "root" of the original marshmallow confectionery. Marshmallow root provides natural mucilage that supports, soothes, and moistens mucous membranes of the respiratory, digestive, and urinary tracts.*
Cold macerations, warm infusions, tincture, and fluid extract or capsulation.
Marshmallow root is completely non-toxic, but its mucilage can interfere with the absorption of other medicines if taken at the same time. The asparagine in the root can cause a mild odor in the urine, but has no other physiological effect.
This information has not been evaluated by the Food and Drug Administration. It is not intended to diagnose, treat, cure, or prevent any disease. These food products may be beneficial for supporting optimal health.
For educational purposes only.
Capsules available upon request.