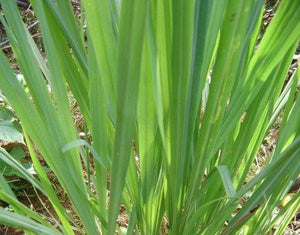 With its lemony scent and hint of rose aroma, Lemon Grass is an essential ingredient in Thai and Indonesian cooking. Lemon Grass grows wild in Indonesia, Indochina, and tropical Australia, and has been cultivated in Southeast Asia and Sri Lanka as a culinary herb and in India as a medicinal herb for thousands of years. 
The essential oil of Lemon Grass (0.2 to 0.5%, "West Indian Lemon Grass oil") consists mainly of citral. The herb also contains myrcene, nerol, limonene, linalool and beta-caryophyllene; the compounds make the essential oil subject to "curdling" when exposed to the air.
The lower portion of the stalk.
Universally used within tea blends for its flavor and aroma. Sliced fresh lemon grass, or ground powder (1 teaspoon of lemon grass powder equals one stalk of fresh lemongrass). 
Excessive doses should be avoided while pregnant.
This information has not been evaluated by the Food and Drug Administration. It is not intended to diagnose, treat, cure, or prevent any disease. These food products may be beneficial for supporting optimal health.
For educational purposes only.

Capsules available upon request.