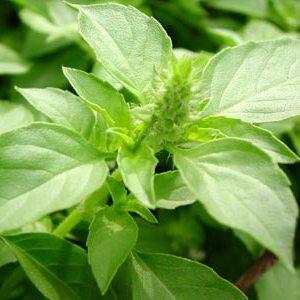 Also known as: Ocimum sanctum, Tulasi (Sanskrit name)
Introduction: Holy Basil is commonly grown in Hindu homes and it is a sacred plant in the Hindu religion. In fact a Hindu household is considered incomplete if there is not a Tulsi plant in the courtyard. The Latin name Ocimum sanctum means "sacred fragrant lipped basil" or "the incomparable one". Holy Basil has also been called by many other names including the "Queen of Herbs", "The Elixir of Life", and the "Mother Medicine of Nature". Ayurvedic medicine teaches that Tulsi is classified as a "Rasyana": an herb that nourishes a person's growth to perfect health. There are three distinct varieties of Tulsi: Vana, which grows wild in the forests, Krishna, which is entirely purple, and Rama, the most commonly found type.
Constituents: Eugenol app., B-caryophyllene, sesquiterpenes, monoterpenes viz, bornyl acetate, methyleugenol, neral, camphene, a-pinene, ursolic acid, campesterol, cholesterol, stigmasterol, and methyl esters of common fatty acids.
Parts Used: The leaf is generally the only part used in a medicinal capacity.
Typical Preparations: Tulsi is traditionally taken as an herbal tea, dried powder, fresh leaf, or mixed with ghee.
Precautions: Not recommended for use if pregnant, nursing, or are considering becoming pregnant (may have an anti-fertility effect). Do not administer to the very young. May lower blood sugar, consult a doctor if hypoglycemic (in separate studies, it has also been shown to be beneficial for those with hypoglycemia). Holy Basil has mild blood thinning properties.
This information has not been evaluated by the Food and Drug Administration. It is not intended to diagnose, treat, cure, or prevent any disease. These food products may be beneficial for supporting optimal health.
For educational purposes only.