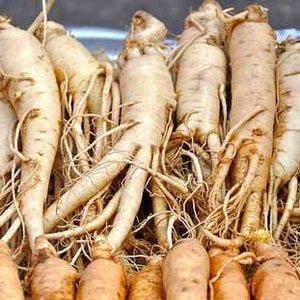 Also known as: Panax quinquefolius, American Ginseng, Anchi Ginseng, Canadian Ginseng, Ginseng, Ginseng Root, North American Ginseng, Occidental Ginseng, Ontario Ginseng, Panax quinquefolium, Red Berry, Ren Shen, Sang, Shang, Wisconsin Ginseng, Xi Yang Shen.
Constituents: Acetic acid, adenine, adenosine, alanine, ascorbic acid, benzoic acid, beta-sitosterol, caryophyllene, cysteine, ferulic acid, folic acid, at least 10 different ginsenosides, glycine, guanidine, histidine, Isoleucine, kaempferol, magnesium, malic acid, niacin, pantothenic acid, salicylic acid, tannins, tyrosine, vanadium, zinc.
Parts Used: The mature root, washed, dried and cut.
Typical Preparations: Teas, extracts, or in capsules, and it is commonly found as an ingredient in soft drinks.
Precautions: Most herbalists recommend taking American Ginseng (or any other ginseng) for a month at a time, followed by a two-week "rest."
This information has not been evaluated by the Food and Drug Administration. It is not intended to diagnose, treat, cure, or prevent any disease. These food products may be beneficial for supporting optimal health.
For educational purposes only.

Capsules available upon request.