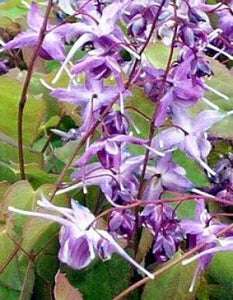 Epimedium grandiflorum is native to the mountains of China where it grows abundantly and can also be found in neighboring countries. It has become a popular garden ornamental worldwide for its low-growing stature and striking flowers.
Epimedium is referred to as yin yang huo in Traditional Chinese Medicine (TCM) where it has been used for centuries for its beneficial properties. The herb is considered energetically warming in TCM with both acrid and sweet flavors. Epimedium gets one of its common names, horny goat weed, from a legend of a goat herder discovering the properties of Epimedium by noticing the fecundity of his goats after they grazed on the herb.
It is typically prepared as a tea infusion, tincture, or blended into multi-herbal formulations

This information has not been evaluated by the Food and Drug Administration. It is not intended to diagnose, treat, cure, or prevent any disease. These food products may be beneficial for supporting optimal health.
For educational purposes only.

Capsules available upon request.