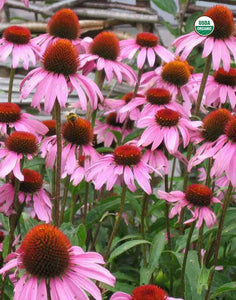 Echinacea is member of the Asteraceae family, and are commonly called purple coneflowers. It can be found growing in moist to dry prairies and open wooded areas in eastern and central North America. Their large pink flowers bloom from early to late summer. Some species are used in herbal medicines and some are cultivated in gardens for their showy flowers. A few species are of conservation concern.
This information has not been evaluated by the Food and Drug Administration. It is not intended to diagnose, treat, cure, or prevent any disease. These food products may be beneficial for supporting optimal health.
For educational purposes only.

Capsules available upon request.