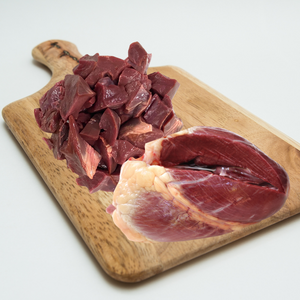 *NOTE: Due to the nature of this product, there will be additional refrigeration fees ($35 USD for up to 40 lbs.) added on to the regular shipping charges. You also have the option for FREE in-store pickup or you may choose our local delivery to your address at our current delivery rates.
BioComplete™ Natural Raw Beef Heart Chunks are rich in all the B Vitamins and a good source of CoQ10 as well. These 100% natural choice beef heart chunks provide a balanced diet when used in proper rotation and can boost immunity. Like all of our other raw foods, our Beef Heart is USDA inspected and approved for human consumption. Our organ meats come from naturally raised, hormone free, antibiotic and preservative free animals. At My Paleo Pet our foods are not pet food, they are human grade foods prepared with great love for pets, specifically dogs and cats.
Our diets are made fresh daily and are flash frozen to ensure the quality of the product and its nutrients.