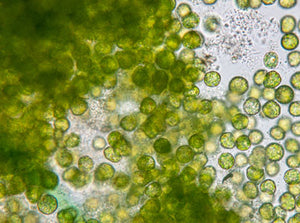 Available in 2.5 or 5 oz. Glass jar
Chlorella is a single-celled green algae, and one of the oldest forms of plant life. It is spherical in shape, and about the size of a human red blood cell, or 2-8 microns in diameter. Chlorella has the highest chlorophyll content of any plant, and through photosynthesis, multiplies rapidly, requiring only carbon dioxide, water, sunlight, and a small amount of minerals to reproduce.
On the earth since the Precambrian period, over 2.5 billion years, Chlorella cells were not actually identified under a microscope until the 1890's. It was first grown in Holland in pure form in the late1800s' By the early 1900, realizing that Chlorella consists of 60% protein and multiplies very fast, scientists in various countries, especially in Germany, began researching the idea of using it as a food.
This information has not been evaluated by the Food and Drug Administration. It is not intended to diagnose, treat, cure, or prevent any disease. These food products may be beneficial for supporting optimal health.
For educational purposes only.

Capsules available upon request.