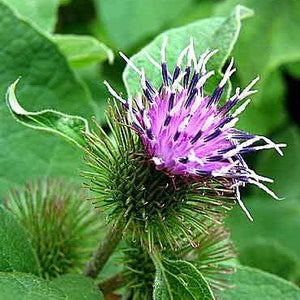 Also known as: Arctium lappa, gobo, poor man's potatoes, Arctium, Arctium minus, Arctium tomentosum, Bardana, Bardana-minor, Bardanae Radix, Bardane, Beggar's Buttons, Burr Seed, Clotbur, Cocklebur, Cockle Buttons, Edible Burdock, Fox's Clote, Great Bur, Great Burdocks, Happy Major, Hardock, Harebur, Lappa, Love Leaves, Orelha-de-gigante, Personata, Philanthropium, Thorny Burr.

Introduction: Considered by many in the North America and Europe as a common weed, Burdock is a sturdy biennial plant reaching up to 6 feet (2 m) high, with 18 inch (50 cm) wide leaves forming a rosette at ground level, with smaller versions growing up the thick flowering stem. Burdock roots grow straight down as much as 3 feet (1M) into the subsoil. In mid-summer, the plant blossoms into a dense array of globular flowers with sticky bracts that cling to passing animals and peoples. These burs were in fact the inspiration behind the invention of Velcro fasters, when the inventor found them sticking to his dog after an afternoon walk and he realized that objects could be fastened together in the same fashion. The plant grows on roadsides and waste places and around field boundaries throughout Britain, Europe and North America; it is cultivated in Japan, where it is called Gobo, and the root is consumed as an everyday vegetable, similar to a carrot.

Constituents: Up to 50% inulin, polyacetylenes, volatile acids (acetic, proprionic, butyric, isovaleric), non-hydroxyl acids (lauric, myristic, stearic, palmitic), polyphenolic acids, and tannins.

Parts Used: The washed and dried root, powdered. Also, sometimes the fruits and leaves.

Typical Preparations: It is best taken as a tea in a decoction form. May also be taken as a capsule or extract. In Asia it is used as an ingredient in soups, stews, stir fry's and even eaten raw.

This information has not been evaluated by the Food and Drug Administration. It is not intended to diagnose, treat, cure, or prevent any disease. These food products may be beneficial for supporting optimal health.

For educational purposes only.

Capsules available upon request.