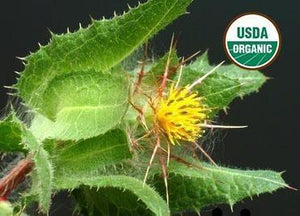 Blessed Thistle is a weed with prickly leaves and yellow flowers surrounded by purple spikes. This Mediterranean plant flourishes on dry ground and in open areas. The leaves and flowering tops are collected in summer.

Do not use for pregnant pets or pets with stomach ulcers.

This information has not been evaluated by the Food and Drug Administration. It is not intended to diagnose, treat, cure, or prevent any disease. These food products may be beneficial for supporting optimal health.

For educational purposes only.