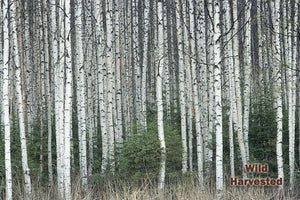 Betula spp, betula, betulae folium, betula pendula, betula verrucosa, downy birch, silver birch, white birch.
The birch is a soft-wood tree native to cold, northerly climates. The name is a very ancient one, probably derived from the sanskrit bhurga, meaning "Tree whose bark is written upon." birch bark easily peels from the tree, but is slow to decay. Removing the bark from a living tree can threaten the life of the tree if the dark inner bark is damaged, but due to the remarkable preservative properties of birch bark, it can easily be harvested from dead or fallen trees, where it still retains its wonderful properties. Birch bark is strong and water resistant, almost like cardboard in its pliability, and can therefore be bent, cut, and even sewn. Birch bark has been quite valuable since pre-historic times for its applications in building and crafting.

Betulinic acid, betulin, methyl salicylate.

Dried, powdered bark.

Tea, poultices.

This information has not been evaluated by the Food and Drug Administration. It is not intended to diagnose, treat, cure, or prevent any disease. These food products may be beneficial for supporting optimal health.
For educational purposes only.

Capsules available upon request.