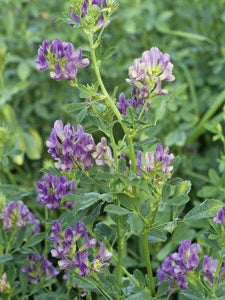 BioComplete™ Organic Alfalfa Leaf Powder

Available in 1.4 or 3 oz. Glass jar

Also known as:

Medicago sativa, lucerne, holy-hay, and trefoil.

If you have ever driven across the desert west of the United States and noticed occasional fields of bright green grass, chances are you saw alfalfa. Alfalfa is one of the oldest cultivated plants. It has been used for centuries for hay, but it has also been used for centuries as a human food. Its name comes from the Arabic, al-fac-facah, "Father of all foods."


Parts used:

Seeds, sprouts, and the above ground parts of the plant as a bulk herb, for teas, and in capsules.

Typical preparations:


Alfalfa sprouts are found in groceries and salad bars. Capsules or tables containing alfalfa leaves or seeds as well as the bulk powdered herb are found in health food stores. The usual dose of alfalfa for tea is 1 to 2 teaspoons per cup, steeped in boiling water for 10 to 20 minutes. Capsules and tablets of whole alfalfa should be taken according to the manufacturer's recommendations


This information has not been evaluated by the Food and Drug Administration. It is not intended to diagnose, treat, cure, or prevent any disease. These food products may be beneficial for supporting optimal health.
For educational purposes only.

Capsules available upon request.