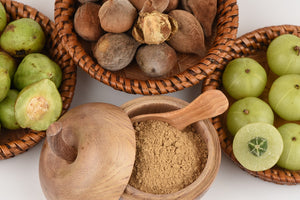 BioComplete™ Triphala Powder
Triphala means "three fruits" and refers to the synergistic Ayurvedic blend consisting of equal parts amalaki, bibithaki, and haritaki fruits. The fruits are dried, powdered, then blended together. The powder can be used alone or incorporated into herbal formulas. It is considered one of the most compatible combinations in Ayurvedic practice. Triphala powder can be consumed with honey or ghee, encapsulated, or applied topically. Triphala powder has been known to be taken when mixed with warm water, juice, ghee or honey. It can also be encapsulated or used topically in shampoo blends and as a dry massage powder.
This information has not been evaluated by the Food and Drug Administration. It is not intended to diagnose, treat, cure, or prevent any disease. These food products may be beneficial for supporting optimal health.
For educational purposes only.

Capsules available upon request.