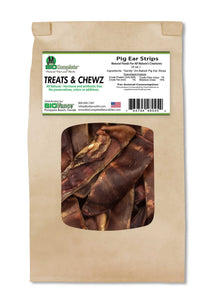 Biocomplete Natural Baked Pig Ears Strips 4 Oz.
BioComplete™ Natural Baked Pig Ear Strips are hand-carved, premium 100% USA Natural Pig Ears and  are slow roasted in our own kitchen for the best dehydrated food ever! All our pig ears are USDA inspected and approved for human consumption. All are naturally raised, hormone and antibiotic free, preservative free with nothing else added. BioComplete™ Natural Pig Ear Strips can be used as a travel food, a treat or crumbled as a flavor topper. Also a great way to help clean any dogs teeth.
This information has not been evaluated by the Food and Drug Administration. It is not intended to diagnose, treat, cure, or prevent any disease. These food products may be beneficial for supporting optimal health.
.