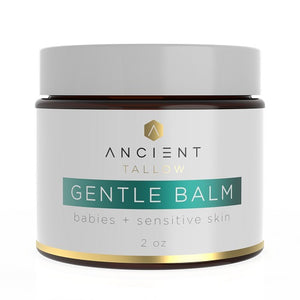 The Gentle Balm is a natural, essential oil-free balm that caters to even the most sensitive skin types, including that of children, babies, and mature skin. Packed with therapeutic botanicals, this balm will provide your skin with the ultimate nourishment and protection, while giving you a comforting and soothing experience.
Ingredients: 100% Grass-Fed Organic Tallow, Organic Unrefined Jojoba Oil Infusion (Calendula, Chamomile, Lavender, Marshmallow Root), Pure Florida Honey, Beeswax
This information has not been evaluated by the Food and Drug Administration. It is not intended to diagnose, treat, cure, or prevent any disease. These food products may be beneficial for supporting optimal health.