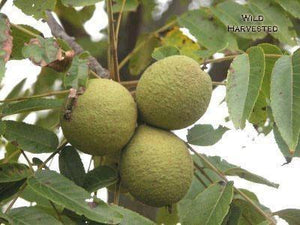 Available in 2 or 4.6 oz. glass jar
The Black Walnut tree, also known as the American walnut, is native to North America. Trees range in height from 70-150 feet and have a diameter of 2-4 feet. The fruit is a large, rounded, brownish-black nut with a hard, thick, finely ridged shell enclosing a rich, oily kernel. The nut is black and ridged and is enclosed in a solid, non-splitting husk, grown on the tree singly or in pairs.
Black Walnut is believed to be antiviral, antiseptic, germicidal, and anti-parasitic. Specifically, it is said to eliminate intestinal worms, such as tapeworm, hookworm, and roundworm, and even heartworm, in dogs. It may be used as a heartworm preventative, and can also repel fleas and ticks.
This information has not been evaluated by the Food and Drug Administration. It is not intended to diagnose, treat, cure, or prevent any disease. These food products may be beneficial for supporting optimal health.
For educational purposes only.

Capsules available upon request.