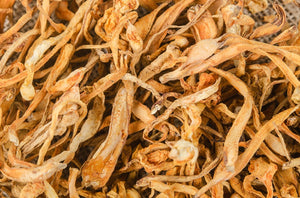 BioComplete™ Cordyceps Mushroom Powder
Cordyceps Mushroom also known as Cordyceps militaris
Cordyceps is a genus of fungi and gets its name from Greek and Latin words meaning "club" and "head". There are approximately 400 species of Cordyceps, most of which are abundant in tropical climates. The fungus parasitizes insects and occasionally other fungi in order to propagate and has a long history of use in traditional Tibetan and Chinese healing modalities.
Our Cordyceps powder is milled from Cordyceps militaris mycelial biomass that has been cultivated on organic oats in the USA. The wild form of Cordyceps is rare and expensive; consequently, a strain isolated from the wild form is now cultivated and commonly used. 
This information has not been evaluated by the Food and Drug Administration. It is not intended to diagnose, treat, cure, or prevent any disease. These food products may be beneficial for supporting optimal health.
For educational purposes only.

Capsules available upon request.