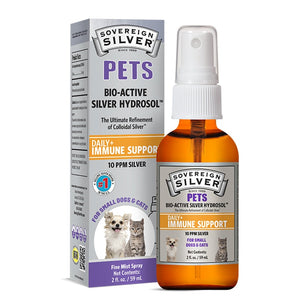 Give your pets the very best. Sovereign Silver Bio-Active Silver Hydrosol, certified by the National Animal Supplement Council (NASC), provides daily immune support and allergy relief for pets. It works by promoting the body's natural resistance to pathogens. Pets love it's neutral taste (like water!) and pet parents love the weight-specific dosing instructions.
Silver has been used for over 2,400 years to promote health. It's part of the natural world around us, and even part of an animal's diet as a trace mineral found in whole grains, water, mushrooms and mammalian milk. Since 1999, families have relied on Bio-Active Silver Hydrosol for powerful immune support, and now the #1 selling silver brand is available for PETS.

* These statements have not been evaluated by the FDA. This product is not intended to diagnose, treat, cure, or prevent any disease.