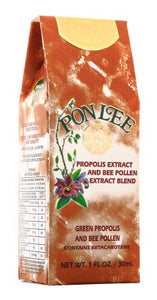 The Pon Lee Propolis Extract and Bee Pollen Extract Blend is a product of Brazil and is composed of two elements of great synergy: Green Propolis and Wild Bee Pollen.
WILD BEE POLLEN: Is rich in Vitamins and Proteins. In its extract form is much easier assimilated by the body than in its original grain form.
GREEN PROPOLIS: is rich in FLAVONOIDS and PHENOLIC SUBSTANCES.
TOGETHER they become an excellent nutritional supplement which strengthens the body and therefore enhances immune system.
These statements are not intended to diagnose, treat, cure or prevent any disease.