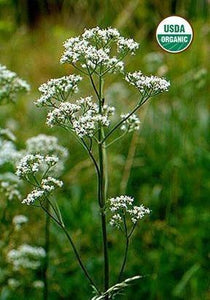 Valeriana officinalis. Common Valerian, European Valerian, Valeriana and allheal.

Valerian root is widely used in sleep aids and sedatives in various forms including teas, tablets, and capsules. Often, Valerian is combined with other herbs traditionally known to promote sleep including hops, passionflower, lemon balm, chamomile, and lavender.
TAnyone who has experienced the unpleasant dirty sock odor of the roots would be surprised to learn that the pink or white flowers of this long-stemmed perennial are actually quite fragrant, and were used as a perfume in the 16th century. Valerian tastes sweet and spicy if somewhat bitter.

Acetic acid, ascorbic acid, beta-ionone, calcium, caffeic acid, magnesium, manganese, quercitin, valeric acid.

Dried root.

Teas, tinctures and capsules. Many people find the taste unpleasant and prefer to take it as a capsule or extract.


This information has not been evaluated by the Food and Drug Administration. It is not intended to diagnose, treat, cure, or prevent any disease. These food products may be beneficial for supporting optimal health.
For educational purposes only.

Capsules available upon request.