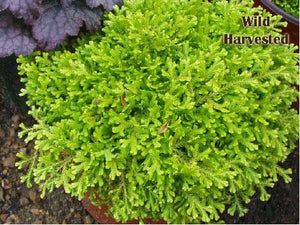 Lycopodium clavatum, vegetable sulphur, goat's claw, stag's horn, wolf claw, running pine, and robin hood's hatband.
Alkaloids, about 0.1-0.2%, of which the major one is lycopodine; with clavatine, clavatoxine, nicotine and many others. Polyphenolic acids including dihydrocaffeic, flavonoids including apigenin, miscellaneous; triterpenes.
Whole lichen (also known as spores or moss)
Dried spores as a powder, tincture prepared from dried leaves and stems. Usually found in extract and capsule form. Suitable as a tea.
Not to be used while pregnant. Not for long term daily use. When used as directed, there are no known side effects or dangers, though severe overdoses can cause gastric distress.
This information has not been evaluated by the Food and Drug Administration. It is not intended to diagnose, treat, cure, or prevent any disease. These food products may be beneficial for supporting optimal health.
For educational purposes only.

Capsules available upon request.