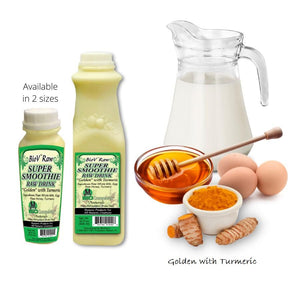 *NOTE: Due to the nature of this product, there will be additional refrigeration fees ($35 USD for up to 40 lbs.) added on to the regular shipping charges. You also have the option for FREE in-store pickup or you may choose our local delivery to your address at our current delivery rates.
BioV™ Raw Super Raw Drink "Golden" Smoothie - A true super drink! Our special flavorful fun treat drink with a healthy kick of herbs and botanical agents that target specific health challenges. This "Golden" drink is an excellent formula with anti-inflammation,pain killing and liver cleansing properties. This formula is a variation of golden paste.  Ideal for orphan and baby pets, rehabilitating from illness or surgery, as an antioxidant, de-toxicant, or just a plain fun drink.
Ingredients - A proprietary blend of: Raw Milk, Raw Organic Pastured Eggs, Raw Local Honey and Turmeric
Available fresh for store pick-up and for most of our local deliveries or frozen for convenience in shipping. Please be sure to make a special note on your preference.
This information has not been evaluated by the Food and Drug Administration. This information is not intended to diagnose, treat, cure, or prevent any disease.