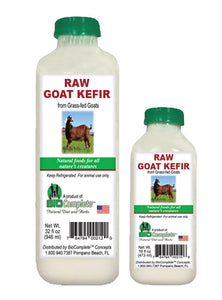 *NOTE: Due to the nature of this product, there will be additional refrigeration fees ($35 USD for up to 40 lbs.) added on to the regular shipping charges. You also have the option for FREE in-store pickup or you may choose our local delivery to your address at our current delivery rates.
BioComplete™ Raw Goat Kefir is sourced from from grass-fed goats at our local farms. Always fresh and delicious. This raw goat kefir is a fermented milk product similar to yogurt. It is 100% natural, hormone free and never has any additives.
Raw grass-fed goat kefir contains more heart-healthy Omega-3 fatty acids than regular Kefir and contains less saturated fat and more polyunsaturated fat than regular pasteurized goat kefir. Raw goat kefir also has a greater amount of conjugated linoleic acid (CLA), a group of fatty acids that may help lower one's risk of heart disease.
According to the Journal of American Medicine, "Goat's milk products are the most complete food known." It contains vitamins, minerals, electrolytes, trace elements, enzymes, protein, and fatty acids that are utilized by your body with ease. In fact, your body can digest goat's milk in just 20 minutes.
Available fresh for store pick-up and for most of our local deliveries or frozen for convenience in shipping. Please be sure to make a special note on your preference.
This information has not been evaluated by the Food and Drug Administration. This information is not intended to diagnose, treat, cure, or prevent any disease