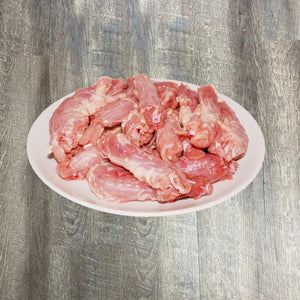 *NOTE: Due to the nature of this product, there will be additional refrigeration fees ($35 USD for up to 40 lbs.) added on to the regular shipping charges. You also have the option for FREE in-store pickup or you may choose our local delivery to your address at our current delivery rates.

BioComplete™ Natural Raw Chicken Necks are a raw meaty bone and sourced from farm fresh, pastured chickens.  They provide a healthy source of natural collagen, glycine and many other essential nutrients. They are beneficial for bone health, teeth, skin, joints, immune system and so much more. No additives or hormones are ever used in our food sources. At My Paleo Pet, we offer them fresh or flash frozen for convenience in storage and shipping. Be sure to also check our select variety of other BioComplete™ raw frozen bones as well.
Our bones are cut fresh daily and are available fresh or frozen upon request.