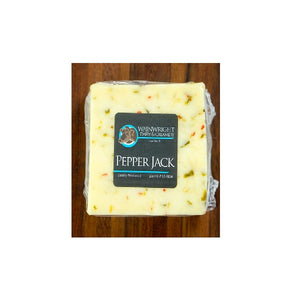 *NOTE: Due to the nature of this product, there will be additional refrigeration fees ($35 USD for up to 40 lbs.) added on to the regular shipping charges. You also have the option for FREE in-store pickup or you may choose our local delivery to your address at our current delivery rates.
Wainwright Organic Pepper Jack Cow Raw Cheese products are sourced from 100% Grass Fed Jersey Cow Herd. 
No Grain, hormones, antibiotics, steroids or GMO's are used. The cows are pastured 23 hours a day on a grass selected for improved nutritive value. 
This information has not been evaluated by the Food and Drug Administration. This information is not intended to diagnose, treat, cure, or prevent any disease