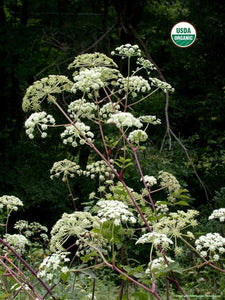 Angelica archangelica, Garden Angelica, Great Angelica, and Wild Parsnip.
Angelica is the European cousin of the more familiar dong-quai. A graceful flowering plant related to carrots, dill, and fennel, angelica is found as far north as Nunavut and Lapland and as far south as Syria and South Carolina. The plant has an intense yet sweet aroma more like carrots than like dill or fennel.
Psoralens, bergapten, beta-sitosterol, coumarins, limonene, umbelliferone.
As a tea, in capsules and as an herbal extract.
This information has not been evaluated by the Food and Drug Administration. It is not intended to diagnose, treat, cure, or prevent any disease. These food products may be beneficial for supporting optimal health.
For educational purposes only.

Capsules available upon request.