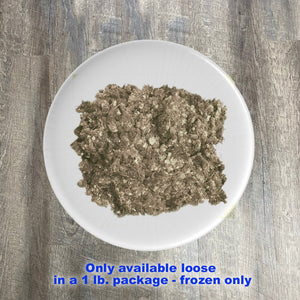 *NOTE: Due to the nature of this product, there will be additional refrigeration fees ($35 USD for up to 40 lbs.) added on to the regular shipping charges. You also have the option for FREE in-store pickup or you may choose our local delivery to your address at our current delivery rates.
BioComplete™ Natural Raw Beef Green Tripe Ground Purity 1 lb pkg. Frozen only.
Our grass-fed Raw Beef Green Tripe Ground Purity is full of essential nutrients and has many benefits.  It contains probiotics, essential fatty acids such as Omega-3 and Omega-6, Can aid in both digestion and absorption of nutrients plus boost the immune system. Dogs and cats that are fussy eaters love this special delicacy.